Chiang Mai Overview
| | Ranking | Details/Comments |
| --- | --- | --- |
| Things to Do | | Activities range from elephant rescue reserves, temples, and hanging out on Nimmanhaemin (Nimman) Road and the Night Bazaar, just to name a few. |
| Lodging | | The customer service of the Airbnb's in Chiang Mai are unmatched. Many offer airport pickup, daily cleaning (including washing and folding your clothes) and/or daily breakfast. Now that's the making of a vacation. |
| Getting There | | We flew from Bangkok on our arrival, and left for Phuket on our departure. There were multiple direct flight options for each itinerary. If you're coming from another Southeast Asian country, you may be able to find a direct flight. Most flights from the US and Europe require at least one layover. |
| Getting Around | | Cabs are readily available all over Chiang Mai. It didn't take us any more than 15-20 minutes or so to get to any of our desired destinations within the city. |
| Afford-ability | | Chiang Mai is very affordable. Our Airbnb, a 3 bedroom/3 bath townhome conveniently located in an amazing neighborhood was about $200/night. Meals were less than $10/person, and let's not forget about the $10, full hour massage. |
Thai Family Vacation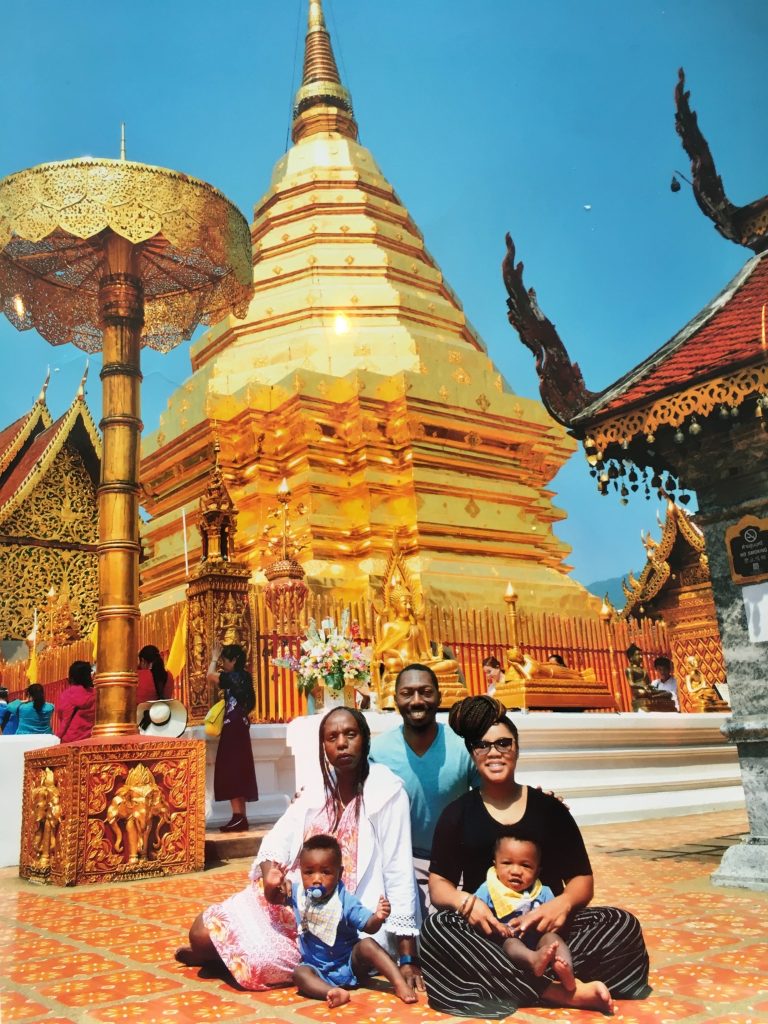 Before this Thai family vacation I had been to Thailand two or three times prior for business. It was basically love at first sight- the food, the people, the massages. So when my family- my husband, our twin boys, and our Aunt Pat- decided they wanted to go to their first AsiaPac country, Thailand was a no-brainer. Let's just say a Chiang Mai Vacation with kids solidified that this was the right decision.
Our Airbnb
I absolutely loved our Airbnb in Chiang Mai (you can find the details here.) My love wasn't necessarily because it was luxurious or super posh, but because of the location. It was only about a 3 block walk from Nimman Road; therefore, conveniently nestled within an abundance of restaurants, spas, and boutiques. The icing on the cake was the customer service. They picked us up from the airport, arranged/drove us to our excursions, cleaned our Airbnb daily (including washing and folding our clothes- will you marry me, please), and dropping off items for breakfast each morning. I mean honestly, can it really get better than that?
When traveling with others, especially my family, Airbnb is my go to. You can save $55 off your first Airbnb trip with this code.
Karen's Elephant Reserve
When one thinks of a Chiang Mai vacation, an elephant excursion has to be on the top of the list, but what if your kids are along for the journey? BRING THEM WITH YOU! This excursion, which can be found here, was the highlight of our trip, and the entire family joined. It is worth every penny of the $62/adult, especially since it included food and transportation- making it convenient as well. The elephant reserve arrived to pick us up at our Airbnb around 7:30AM. After loading our car seats (my travel car seat recommendation can be found on my homepage) and picking up the other passengers, we drove about 90 minutes to the reserve.
Feeding Elephants Bananas
Upon arrival at this beautiful nature reserve, we were instructed to change into a traditional Karen shirt, as the elephants are accustomed to humans wearing them. We were then greeted by three elephants- two adults and one baby. The adults were rescues and the baby was born there. When we arrived, we peeled bananas and fed them to the elephants. I must admit, I was extremely nervous. First, both my husband and I each had one of our twins in a baby carrier. And second, well, my hand was basically touching the mouth of one of the largest animals in the world. To my elation, the elephants were so happy to get the bananas and were super friendly.

Bathing Elephants
After feeding them, we walked among the elephants to the river where we bathed them. My husband, aunt, and myself took turns bathing the elephants so that we could keep our boys out of the water. Once again, I was a bit nervous. But the elephants were enjoying every minute of it, rolling in the water and being silly. It was such an awesome experience!
Wat Doi Suthep (Buddhist Temple)
What a historical Buddhist Temple nestled in the hills above Chiang Mai, offering beautiful views of the city. To get there, you either have to climb 309 stairs to visit the pagodas (temple) or take the tram. Since we had the boys, we opted for the tram, although the stairs seemed like a great challenge.
The temple was established in 1383, so the details of the buildings were exquisite; I'm not sure if I've ever seen so much gold. To my surprise, monks still live there. It was an enlightening experience to watch the monks walk in a straight line clothed in their orange Kāṣāya. I was amazed at how young some of them were. Absolutely fascinating!

Wat Chedi Luang (Buddhist Temple)
This massive temples is in the middle of the old city, close to other tourist locations. It's home to an enormous crumbling central pagoda that is almost 200 feet wide by 260 feet tall. I mean, it's massive and is in need of restoration. At this temple we had the opportunity to talk with the monks and hear their stories. One monk said that he became a monk at 10 years old, when he felt the calling on his life. They do get the opportunity to speak to their family, but they don't see them very often. To be able to sit and interact with a monk is an experience that I'll remember for a lifetime.
The Kiddo's New Friends
The boys seemed to love going to the temples as we either kept them in a baby carrier close to us, but especially when we found a non-crowded area or temple to let them roam around for a bit. I must admit that they were the center of attention; the Thai and Chinese women absolutely adored them and wanted pictures with them.
Night Bazaar
If you want to experience the Chiang Mai culture, then you need to go to the Night Bazaar. It's blocks of clothing and food vendors, including live music in one of the markets. To be honest, it is extremely crowded, so not the most ideal place for strollers. Luckily, we purchased our GB Pockit Stroller just for this trip and the large crowds, so we were able to maneuver through the crowds.
Go For a Ride
Chiang Mai is full of tuk-tuks and songthaew's. Tuk-tuks are mechanized three-wheeled taxis. They are pretty popular in Asian countries. The first time riding one can be a bit of a thrill. It was a great surprise the first time I saw a songthaew, which was in Chiang Mai. A songthaew is a taxi bus adopted from a pickup truck, which gives you the feel of riding in a covered truck bed. A lot of them in Chiang Mai are "pimped out" with lights and other fun decorations. Since our party consumed a lot of space with three adults, two toddlers, and two strollers, songthaew became our favorite mode of transportation. We would just put the strollers right into the truck bed (with the boys locked in), put on the stroller locks, and ride on.
On this trip, the boys had just turned one; therefore, they did not have all of their vaccinations. Therefore, I purchased mosquito nets for their strollers to protect them from getting mosquito bites.
If you're looking to go to an Asian country, Thailand, and more specifically a Chiang Mai family vacation, especially with kids, must be on your list. There are so many exciting things to do in Northern Thailand it's impossible to make time for them all. Next time we visit, we'll definitely fit in trips to Chiang Rai and Pai on our Chiang Mai itinerary.