Kauai has always been on my husband and my "travel wishlist" since our honeymoon in Maui almost a decade ago. So when Scott's Cheap Flights sent a deal to Kauai for less than $400 roundtrip, we knew we had to go for it. The question we had in the back of our minds was what is there to do in Kauai with kids?
Well, Kauai with toddlers turned out to be the perfect Hawaiian family vacation.
Keep reading to find the 29 best things to do in Kauai with kids.
✔️ Click here to get flight deals delivered to your inbox from your selected airports ✔️
Best Things in Kauai with Kids 2023
Things to Do in Poipu
Poipu is the infamously beautiful and popular area located on the south shore of Kauai, about a 20-minute drive south of the airport
1) McBryde Garden
Go on a self-guided tour of the world's largest variety of Hawaiian flowers at McBryde Garden.
This breathtaking botanical garden will expose you to a plethora of unique and tropical flowers and trees while giving your toddler over 80 acres to explore Kauai. During the summer, they offer movie nights, markets, and more!
Please note that closed-toe shoes are required and a bus will take you to the garden from the visitor center. Tours last 2.5 hours.
✔️ Click here to check the prices of the self-guided tour at McBryde Garden ✔️
2) Poipu 5 Line Zipline
Will you be in Kauai with kids 8 and older? Do they love adventure?
If the answer to the above is yes, then the Poipu 5 Line Zipline is a perfect adventure. Soaring over Kauai's lush green landscape and blue-hued ocean waters will be an experience of a lifetime.
This Kauai with kids adventure will be one for the memory books.
✔️ Click here to book this Zipline adventure ✔️
Things to Do in Lihue
Lihue is located on the east part of Kauai and is home to the airport.
3) Kauai Animal Education Farm KAEF
Kauai Animal Education Farm, KAEF, is an animal rescue that offers various animal interactions, from cuddles and petting to feeding the animals, and more. This is especially perfect for spending time in Kauai with toddlers.
4) Mountain Tubing Adventures
Doing Kauai with kids 5 years and older?
Imagine the once-in-a-lifetime experience to go tubing on the gently flowing waters of Kauai through various canals and tunnels. Kauai Backyard Adventures offers the only tubing adventure in Kauai, so be sure to book this excursion in advance as it frequently sells out.
5) Hidden Valley Falls Kayak Adventure
How many times do you get the opportunity to kayak through a national wildlife refuge?
Outfitters Kauai offers guided kayak strolls through the jungle. This is the perfect Kauai with kids adventure for those 3+ years.
Click here to book your Kayak Adventure
Things to Do in Princeville
Princeville is located on the North Shore of the island, about a 45-minute drive from the airport, without traffic.
6) Na'Aina Kai Botanical Garden
This botanical garden is indeed a special place for trips to Kauai with kids as it includes a children's garden that encompasses a splash pad, maze, playground, and more.
Additionally, they offer various tours through their botanical gardens and structure park, which vary from open-air cart tours, beach tours, bird tours, and self-guided tours.
Advanced reservations are required. Some tours may not be available at this time as a result of the pandemic.
7) Kilauea Lighthouse
Kilauea Lighthouse offers 360-degree views of the most northern point of Hawaii. It's the perfect opportunity for bird-watching and potentially spotting whales, if you're lucky.
The lighthouse can be viewed for free in the public area. However, if you want to get entrance into the lighthouse, tickets must be reserved in advance online.
Free Things to Do in Kauai with Kids 2022
8) Old Koloa Town
Old Koloa Town is a quaint and unique village on the south shore. It gives an old-town feel as you stroll through the various shops, restaurants, and a history center.
Be sure to stop at Bobby's for a pulled pork sandwich. And if you're doing Kauai with kids, this is the perfect stop for pizza and ice cream.
9) Spouting Horn Park
Located in Koloa, on the south shore, Spouting Horn Park is the perfect spot to view sea turtles, whales, and climb ocean rock formations.
But the coolest part is the spouting horn blowhole! The waves have eroded some of the lava rock, creating narrow openings which create a blow hole that frequently shoots water up to 50 feet into the air.
What a cool experience!
10) Omao Neighborhood Park
Does your toddler look for a playground no matter where she may be? The Omao neighborhood park, located on the south shore, is the perfect way to satisfy your kid's playground thirst.
11) Ahukini Recreational Pier State Park
Ahukini Recreational Pier State Park, located in Lihue, has a cool cement pier and wooden walkway. It is a perfect thing to do in Kauai with kids who love to explore marine life.
Plus, it's great for fishing!
12) Ninini Point Lighthouse
This is a hidden gem so close to the airport that you can see planes flying overhead.
The views are spectacular, especially during sunrise. If you're lucky, you may just get to spot a whale! Plus, you can go right up to the lighthouse, while it's under renovation.
Do note that the road leading in may be a bit rough and parking may be limited. So get there early!
Beaches in Kauai with Kids 2023
Unfortunately, not all beaches in Kauai are kid-friendly due to the current. It's recommended to check the current before going. Below are some of the top kid-friendly beaches in Kauai:
South Side
13) Poipu Beach
Surprise! This was named America's Best Beach by the Travel Channel. This beach has restrooms, a lifeguard, a wading pool, and a playground. I definitely recommend going to this beach while in Kauai with kids.
14) Baby Beach
Just as the name suggests, the baby beach is perfect for a beach day in Kauai with toddlers. It's a protected cove with calm and shallow waters. You can relax as your kid splashes around.
15) Salt Pond Beach
Located 20 minutes west of Poipu, Salt Pond Beach not only has a lifeguard but it's also protected by reefs, creating a safe water environment for exploration in Kauai with kids.
Plus, it's great for snorkeling!
North Shore
16) Hanalei Beach
Fun Fact- This beach is one of the most photographed beaches in the world.
This beach has three sections, so if you're up for some adventure, just know your kids will be okay. This is the beach where we took surfing lessons. The ocean floor is sand, making it perfect for exploring Kauai with kids (and surfing falls).
17) Anini Beach
Although there's no lifeguard attached to this beach, it's one of the safest beaches on Kauai. The current can be strong depending on the season, so check before you go.
18) Kalihikai Park
A shallow water beach that is great for snorkeling and sea turtle sightseeing. Plus, it has the perfect mountain backdrop. Be sure to bring your water shoes as there are rocks in the water.
My boy's favorite water shoes, KEEN Kids, let them go from adventure to the water without changing shoes. Click here to check them out.
East Side
19) Lydgate Beach Park
This beach is the ultimate 2-for-1 special: beach and playground.
When I say playground, it's not a simple slide and swings. No, it's a huge playground with different areas. My boys easily stayed here for over 1 hour and could've stayed longer if we weren't hungry.
The beach itself s a safe haven from waves, as it's between two rock-enclosed ponds. For additional safety, there is normally a lifeguard on duty.
20) Nāwiliwili Park
Think your toddler would like watching surfers ride the waves or cruise ships dock while in Kauai? If so, this beach is a must-do while in Kauai with toddlers.
Plus, there are a playground and picnic tables. This is the making of a perfect day in Kauai with kids.
Hiking In Kauai with Kids 2023
Of course, our Kauai with kids trip couldn't be complete without the Wright family finding a hiking trail. Fair warning, very few to none of the trails in Kauai are smoothly paved or without large and small rocks to maneuver around.
But if you and your kiddos wear your tennis or hiking shoes and take it slow, below are a few options:
South Side
21) Shipwreck Beach to Shipwreck Beach Cliff
We took our family photos here and the view is absolutely stunning.
I was ill-dressed, in flip-flops and a dress, which made the walk a bit of a journey. I'm sure if I was dressed properly, it would've been rather easy. If you're up for more of a challenge, you can even continue to Punahoa Point
22) Makauwahi Cave
This is the largest limestone cave in Kauai. It's also close to the beach- a great 2 for 1 special.
North Shore
23) Queen's Bath
In all honesty, this trail can be a bit of a challenge, especially if there has been recent rainfall.
Luckily, it's less than 1 mile each way and the views are absolutely incredible.
My 4-year-old boys did an amazing job with it! One of my kiddos didn't trust it at first and was concerned about getting muddy and falling. After coaching him through it, he was proud of himself for completing such a challenge.
At the end of the day, it was a great Kauai with toddlers challenge!
24) Kauapea "Secret Beach" Trail
An easy, slightly over a one-half mile, walking trail close to Secret Beach. It's affectionately known as Secret Beach as there aren't any signs, and it's only accessible via hiking trails.
West Side
25) Waimea Canyon Lookout
Waimea is a State Park, affectionately known as the Grand Canyon of the Pacific. We really wanted to go here but one of my kiddos wasn't feeling well on the day we had planned to go.
It's about 1.5 hours from the south shore and 2 hours from the north shore.
Unique Activities to do with Kids in Kauai 2023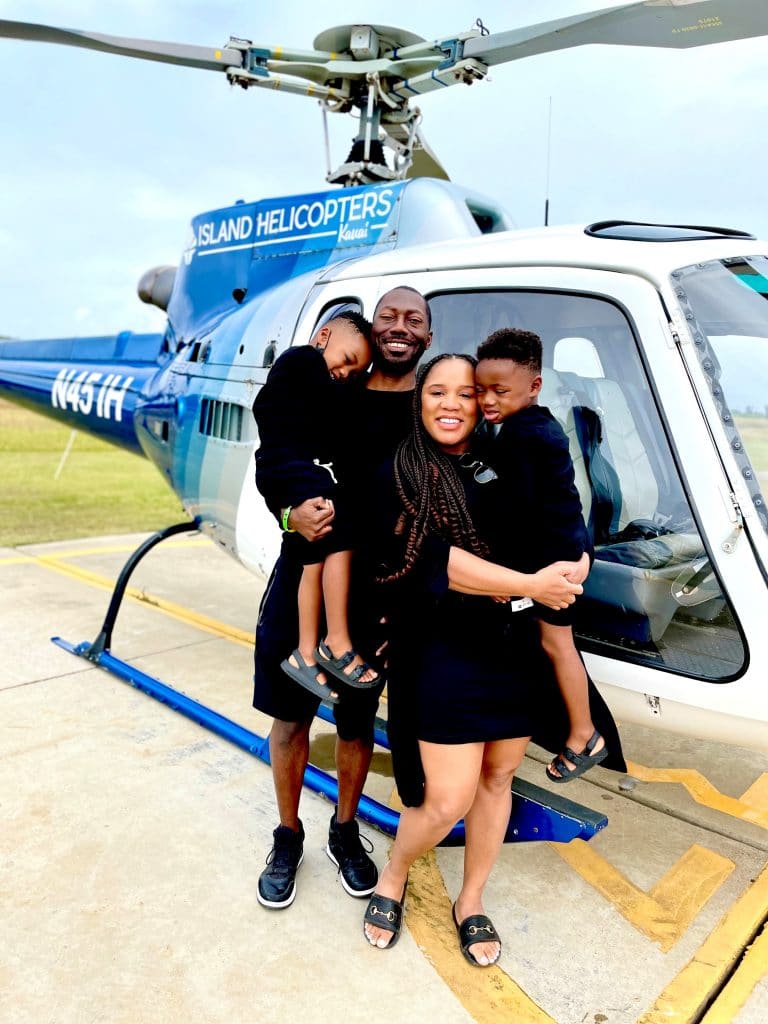 26) Surfing
We took surf lessons in Hanalei Bay which has a sand bottom ocean floor, perfect for falls.
We reserved a private instructor for each twin, while my husband and I shared a semi-private lesson.
Well, one of the boys wasn't feeling well that day and didn't participate; thus, providing a private instructor for each of us.
Having a private instructor made everyone feel incredibly safe and confident as the instructors were patient and very thorough. I must say, Marley enjoyed his experience the most, surfing on the back of one of the instructors.
✔️ Click here to learn more about booking your own surf lessons ✔️
27) Nā Pali Coast:
You can see the Nā Pali Coast only from a helicopter or boat. We chose a helicopter!
We went with Island Helicopters Kauai and took their Grand Deluxe Circle tour.
The tour lasted about 50 minutes, showcasing the beauty of Na Pali Coast, as well as the 400- foot waterfall in Jurassic Park, and other natural beauties of Kauai. The ride was so smooth that the boys fell asleep within the first 5 minutes. If helicopters aren't your thing, there are multiple companies that offer boat tours.
If you are traveling to Kauai with older kids or plan to do the helicopter tour with adults only, checkout the doors off helicopter tour of Kauai.
✔️ Click here to learn about a boat and snorkel option ✔️
28) Luau
We chose the train & luau package at Kilohana.
The train was a 40-minute tour through their orchards and grounds. We were able to get off and feed pigs, donkeys, and horses. It's definitely a must-do if you're traveling to Kauai with toddlers!
The luau was also amazing, especially the fire dancers.
I heard the Smith's Family luau is AMAZING as well! Unfortunately, tickets were sold out.
✔️ Click here for more information on Kilohana Luau ✔️
29) Polynesian Drum & Fire Dance via Airbnb Experiences
Learn how to Fire Dance! This seemed like such a fun Kauai experience, even with toddlers!
Unfortunately, we ran out of time to fit it into our schedule.
✔️ Click here to learn Polynesian Drum & Fire Dance ✔️
Lodging in Kauai with Kids 2023
With kids, lodging can make or break a trip.
Since the weather in Kauai is absolutely perfect, lodging with a pool is non-negotiable. And don't settle for just any standard pool, most resorts in Kauai have pools that include water slides and splash pads that are perfect for kids of all ages.
During our trip, we stayed at three resorts. Each resort had a beautiful pool and daily, family-friendly activities. Check out this post to learn more about the Kauai family-friendly resorts we stayed at with our toddlers.
Budget-Friendly Kauai Family Resort
👉 Kauai Beach Resort & Spa
Location. Location. Location!
Located about 5 minutes from the airport, Kauai Beach Resort & Spa is the midpoint from both the south and north shores.
Your kid won't have time to get bored in Kauai while staying at this resort. There are multiple pools, including slides and volleyball nets, as well as the beach is steps away. Plus, they offer nightly activities like hula dancing and live music.
✔️ Click here to check prices for Kauai Beach Resort & Spa ✔️
Upper Upscale Kauai Family Resort
👉 Koloa Landing Resort at Poipu
Koloa Landing Poipu is recognized as the best pool in America and the best resort in Kauai! And it truly does not disappoint.
Not only does the main pool include multiple slides and a splash pad, but there is a pool specifically dedicated to pool time in Kauai with kids. In addition, they offer daily kid-friendly activities.
Plus, the accommodations are perfect for a Kauai with kids vacation as they include a full gourmet kitchen or kitchenette as well a washer and dryer.
✔️ Click here to check prices for Koloa Landing Resort at Poipu ✔️
Should you visit Kauai with the Kids?
You absolutely should!
Kauai may be known as the sleepy island or the honeymoon destination due to its beautiful and lush scenery. However, Kauai with kids makes for a pretty special family vacation if you know the places to go.
Bookmark this list to help you!